Product Announcements
◆
Below you will find news and information about our latest product announcements. Check back regularly to stay up-to-date on news about our existing product lines.
New Styles Added to the Trends in Ceramic Lineup
◆
Style, design, and value are the keys to Trends in Ceramic, and these new additions to the lineup will bring you the sharp styling and high quality you desire at a great value. With the addition of three new tile lines from Spain, Trends in Ceramic continues to bring you the best of the best.


Retro
With its rustic texture and high color variation, this wood look tile can add charm to any space. Retro comes in 8" x 33" tiles and is available in three colors: Country, Deep, and Nature.


Norden
The elegant simplicity of Norden offers many design possibilities for those seeking clean, sophisticated style. Norden is available in 8" x 33" and comes in three colors: Grey, Natural, and White.


Petranova
Available in 12" x 24" and 3" x 12", Petranova is the perfect fit for those who desire a natural, organic look. This line features high color variation and is available in four colors: Bone, Beige, Earth, and Grey.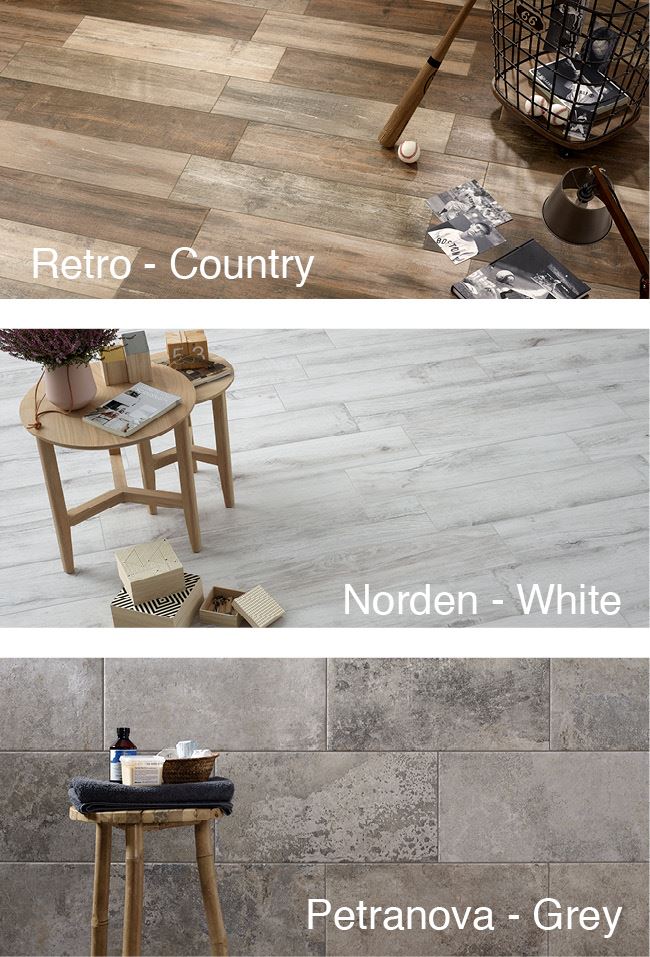 Introducing Trends in Rigid
◆
We are excited to introduce Trends in Rigid, a new flooring category that raises the standard in beautiful, high performance resilient flooring. Constructed on a single, homogeneous platform, Trends in Rigid unites impressive visuals with unprecedented strength, dimensional stability, and damage resistance to create an outstanding solution for commercial and residential installations.
Waterproof core with a lifetime guarantee
Trends in Rigid solid rigid core is waterproof, making it perfect for installation in bathrooms, kitchens, foyers, and other areas where topical moisture can present problems. Trends in Rigid products carry a lifetime waterproof warranty.
Surfaces fortified by Adore®'s Duramond™ technology
Trends in Rigid has a much greater density than that of traditional composite flooring, resulting in enhanced dimensional stability, damage resistance, and indentation resistance. Trends in Rigid's fortified surfaces are easy to maintain and resistant to the wear and tear of everyday living.
Fast, secure, and easy installation
Trends in Rigid is the fastest, most secure, and easiest click installation in its category. Uniform density nearly eliminates telegraphing and allows for installation over existing subfloors including concrete, hardwood, ceramic, and vinyl.


Commercial and residential options
Trends in Rigid floors share the same stunning visuals over two product line specifications: Monarch (residential solid rigid core) and Sovereign (commercial solid rigid core).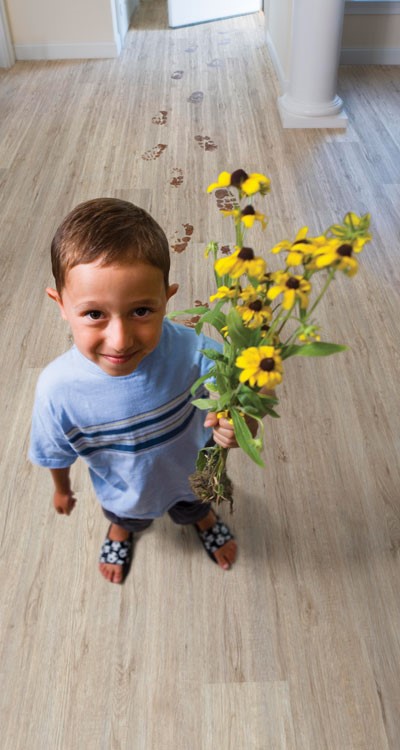 Fresh New Caesarstone Hues for Your Home
◆
Caesarstone has invigorated their collection with four brand new colors with unique depth and coloration for any style. Bring the standout styles of Rugged Concrete, Montblanc (shown above), Moorland Fog, and Turbine Grey into your home. New, beautiful colors with the same Caesarstone durability you know and love.
Rugged Concrete
A medium grey base camouflaged by billows of white, this Caesarstone color is appealing to both men and women and is well-suited for a chic, urban loft for a modern, unfinished edge. It can also mix with softer décor motifs to add a warm, rustic charm.
Montblanc
Montblanc features a classic, delicate light grey base enhanced with unique natural veins. The dominant, warm grey veins have a special structure that varies from thick and rich to thin and refined. Montblanc adds a new, heightened perspective to your space.
Moorland Fog
A rich, creamy, light-colored base tinted with a touch of taupe is embellished by the movement of swirled veins in light brown, dark brown, and grey tones. This Caesarstone color is a contemporary interpretation of classic natural stones.
Turbine Grey
Turbine Grey is versatile and can thrive in surfaces of both grand expanses or moderate spaces. Nature's elements are at play in this Caesarstone color that has the spirit to live anywhere, from family-friendly spaces to vintage places.