Product Announcements
◆
Below you will find news and information about our latest product announcements. Check back regularly to stay up to date on news about our existing product lines.
Introducing Three New Tile Collections from Milestone!
◆
Mood Wood, Revival, and Stoffa are the three latest collections to be added to Jaeckle's Milestone tile offering. These three porcelain lines are produced in the USA at Milestone's Clarksville, TN facility. The collections are mono-calibrated, making it possible to mix tiles of different colors to create unique designs.
Mood Wood
The Mood Wood collection was inspired by natural hues, grains, and shades of wood. This versatile, mono-calibrated line includes two rectified indoor plank sizes, one rectified outdoor plank option, a one-of-a-kind wood look herringbone mosaic, bullnose, and a most unique 24"x 24" deco tile that looks like expensive wood inlay. The collection also includes 12" x 12" rectified deco tiles that merge the modern sophistication of wood tile with the classic, natural look of wood paneling. The warm, inviting look and feel of Mood Wood is sure to bring a touch of Danish "hygge"— a mood of coziness, comfort, wellness, and contentment – to your space.
Revival
Inspired by Yellowstone's Mammoth Hot Springs, Revival captures the distinctive look and personality of travertine. This collection is available in two pressed sizes – 6" x 24" and 12" x 24", and the line also includes bullnose and a mosaic. Revival's gentle four-color palette and fluid graphics realistically capture the beauty of stone and minerals, bringing nature to your interior spaces.
Stoffa
Stoffa draws inspiration from fashion, design, and fabric. The visuals of this collection are reminiscent of the variations in light and shadow seen in woven patterns. Stoffa is available in three mono-calibrated rectified sizes – 12" x 24", 24" x 24", and 24" x 48", as well as a mosaic, cove base, and bullnose. In addition to its four designer colorways, this collection offers a variety of rectified deco options, with three deco patterns available in 24" x 24" and two patterns offered in 12" x 24". The Stoffa collection effortlessly combines floral elements with Scandinavian design to create textural tiles that beg to be touched.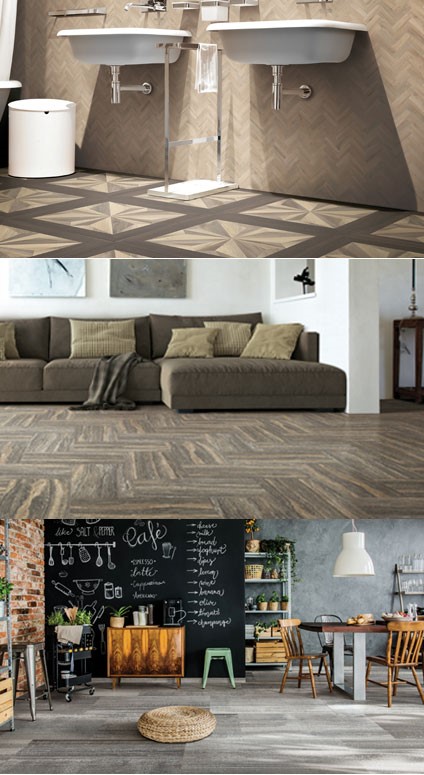 Mercier's Naked Wood Series Brings the Beauty of the Outdoors to Indoor Designs
◆
Mercier Wood Flooring's new Naked Series utilizes innovative technology to capture the true color of wood.
New Finishing Technology
Mercier's state-of-the-art finishing technology takes the Naked Series from tree to floor without altering the natural graining of the wood species. The new application process involves applying a coating to seal the wood and then applying a Mercier Generations coating on top after the wood has been sealed. These finishing techniques capture the natural sawn look without altering the wood's color or graining. The end result is floor boards that are raw-looking and free of coloration while featuring the same Mercier Generations 35-year warranty. The collection includes Walnut, Hickory, Hard Maple, and White Oak options.
Outdoor-Inspired Beauty for Interior Spaces
The Naked Series perfectly embodies the increasing popularity of paler and more natural wood visuals. The lighter colors of these clean, fresh floor boards can brighten up a room and add warmth to the atmosphere. The pale coloration of the planks complements a range of aesthetics, from trending Scandinavian-inspired designs to traditional and rustic spaces. Inspired by a goal of staying as close to the tree as possible and bringing out its natural beauty, Mercier's Naked Series brings the beauty of the outdoors to indoor designs.