Product Announcements
◆
Below you will find news and information about our latest product announcements. Check back regularly to stay up to date on news about our existing product lines.
Trends in Ceramic New Additions
◆
The newest additions to the Trends in Ceramic line come to you from one of the most modern porcelain stoneware production plants in the world. These sophisticated styles are designed in Italy and produced in the USA.
Allegria
This fresh, contemporary design can liven up any room with its warm aesthetic. Available in multiple sizes, Allegria offers plenty of flexibility to create your dream flooring design. This tile's unique texture combines visual elements of both wood and stone for a truly one-of-a-kind look that will complement a wide variety of spaces. Allegria is available in three colorways: Gray, Noce, and Bianco.
Midtown
The gorgeous variation of color in the Midtown line guarantees that you'll find new and intriguing details every time you look at this tile. With patterning and warmth to match that of natural stone, Midtown offers the benefits of a stone floor combined with the easy maintenance of tile. This style's multiple sizes allow for endless design creativity, and Midtown is available in four colors: Bianco, Nero, Taupe, and Dark Brown.
Wine Barrel
This imaginative style brings a new twist to wood look tile. Wine Barrel's soft, wood-inspired visuals create interest and movement throughout any space, and with its patterning varying widely from tile to tile, you'll continuously find new elements to fall in love with. Wine Barrel is available in multiple sizes, and it comes in three colorways: Gray, Noce, and Bianco.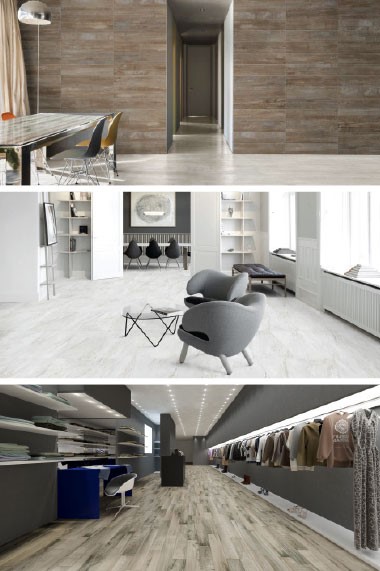 Embrace the Elegance of Mannington Restoration
◆
Mannington's award winning Restoration Collection combines traditional beauty with the technology of today to bring you a variety of refined yet rustic hardwood looks. These new laminate styles emulate the warmth and style of wood while providing the durability and easy maintenance of a laminate.
Hillside Hickory
Hillside Hickory is a reclaimed hardwood look that includes rustic graining and an irregular bevel, capturing the essence of naturally aged wood. This year's two new colors of Hillside Hickory feature white paint added to the grain, transforming the look from rustic to contemporary. The first new color, Cloud, is a soft gray on trend with today's reclaimed interiors. The second new addition, Pebble, is inspired by the fashionable Scandinavian palette prominent in today's homes.
Palace Chevron
The classic chevron pattern once used in the palaces of France is reimagined by Mannington in Palace Chevron. Palace Chevron is available in three colors: Armor, Tapestry, and Stone. This light blonde wood look makes any space appear bigger and brighter, and the chevron design is a great way to add originality and drama. Palace Chevron is particularly stunning choice for long hallways, great rooms, and entryways. The colors and grain pattern of these products coordinate seamlessly with Palace Plank.
Palace Plank
Palace Plank is also available in the colors Armor, Tapestry, and Stone, and it can be coordinated with Palace Chevron to create a timeless neutral backdrop in home interiors ranging from rustic to contemporary. Palace Plank's light blonde wood appearance gives any room a bright, airy feel, and these designs include just the right number of cracks, splits, and knot holes to perfectly embody the beauty of European sawn White Oak.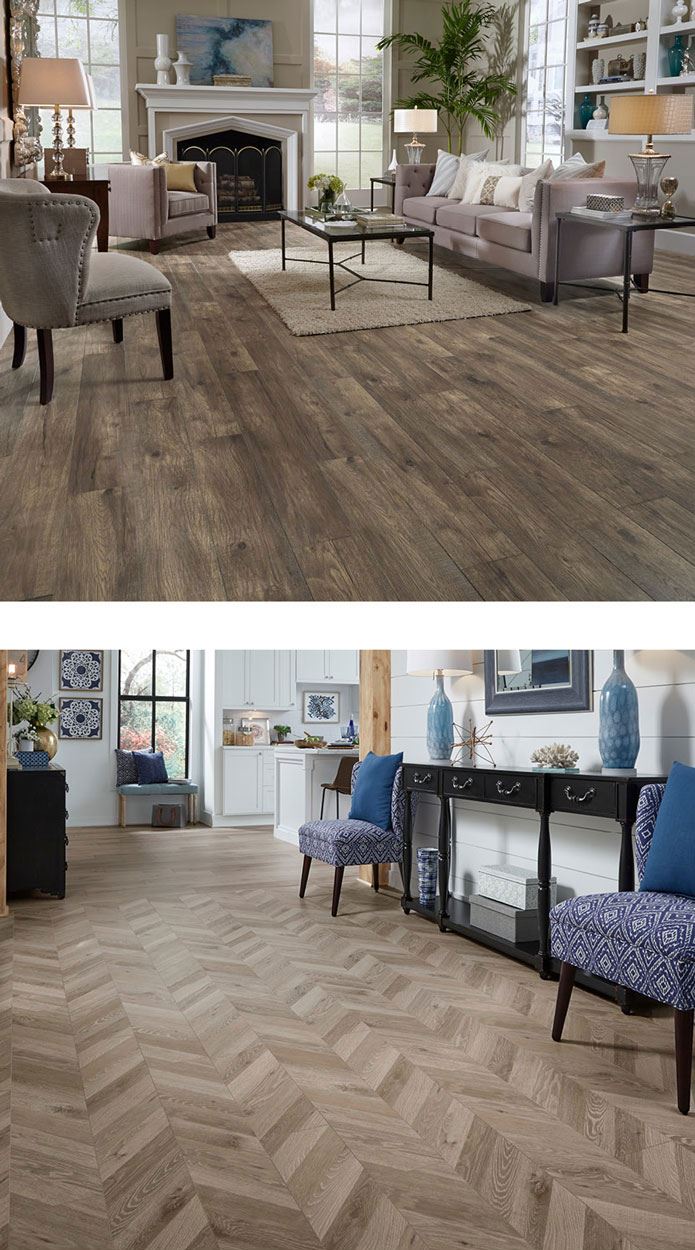 Be Inspired by the New 2018 Avonite Palette
◆
Visualize endless possibilities with Avonite's new 2018 color palette. With colors ranging from subtle to bold and warm to cool, these new additions are sure to inspire.
White Collection
Two new colors, Porcelain 8066 and Ice Blue 8298, have been added to the Avonite White collection. Porcelain offers a solid white option for a crisp and clean feel, while the beautifully cool translucence of Ice Blue can brighten and transform any environment.
Nature Inspired
Avonite's four new nature-inspired colors are sure to complement any environment. Morning Tundra 7503 features an earthy neutral base filled with warm tan and white accents. Rivers Edge 7506 offers a mid-tone natural hue with black, tan, clear, and white particles. Storm 7738 is a lighter neutral flecked with warm touches of black, tan, brown, and ivory. Galactic Ice 7790 is the lightest of the new nature-inspired colors, featuring a cool white hue filled with clear chips and tiny flecks of black. The natural visual texture of these new additions can make any space feel inviting.
Monochromatic
The 2018 Avonite palette includes six particle-free, monochromatic options ranging from neutral to daring. Dove Grey 8231 and Smoke 8280 offer two new choices for those seeking a clean, minimal gray surface. For those looking for a bold statement, Avonite has also added four colorful options: Antique Blue 8258, Azul 8284, Mango 8268, and Fuego 8248. These brilliant hues of blue, yellow, and red are sure to make an impact in any space.
Concrete Collection
Avonite has also added new color options to their Concrete collection. These neutral toned products range from cool to warm and feature a rugged concrete feel. Signal 7826 and Vintage Concrete 7857 showcase warmer natural hues, while New Concrete 7842 and Dove Shimmer 7856 are cooler in tone. The depth of pattern in these new color options makes them an elegant alternative for those who prefer a minimalist look but are looking to move away from solid neutrals.
Movement Collection
The colors of the Movement collection are also included in this year's Avonite palette. Altitude 8901, Morning Mist 8904, Torrent 8903, and Summit 8905 are characterized by a warm, free-flowing visual texture. The natural feel of the Movement Collection will inspire your surroundings and empower you to create bold design statements.
Studio Collection
Two additional colors have been added to the Studio Collection. Whimsy 8609 has a cool neutral background mixed with layers of crushed petals available in an accent color of your choice. The honey-inspired hue of Honey Onyx 8750 offers an intriguing translucent quality. Either of these color options creates a strong statement in any environment.
To view all of the colors included in the 2018 Avonite palette, visit http://www.avonite.com/products/acrylic-collection/new-2018-color-palette/.