Product Announcements
◆
Below you will find news and information about our latest product announcements. Check back regularly to stay up to date on news about our existing product lines.
Trends in Rigid's new Regal XL collection combines premium visuals with outstanding performance.
◆
The Next BIG Thing
We are excited to introduce the new Trends in Rigid Regal XL Collection! This premium solid rigid core series features large format 9" x 60" planks that make a bold, impactful statement in any space. The new large format planks of Regal XL offer an alternative to Trends in Rigid's 6" x 48" and 7" x 48" Monarch and Sovereign sizes for those who wish to apply wood visuals over a larger surface area with fewer seams.
Premium Visuals
Of the ten available Regal XL wood visuals, seven selections offer high variation in color and character, which makes for a unique look in every installation. Three wood visuals with less variation are available as well, and all of Regal XL's wood visuals are embossed in register to capture the authentic appearance and texture of natural wood. The new collection also includes two 12" x 24" stone-inspired options, and every color features painted beveled edges for an added touch of dimension.
Waterproof, Lifeproof, Foolproof
Regal XL builds on the performance qualities of the Monarch and Sovereign series to create a product that performs at an even higher level. Like Monarch and Sovereign, Regal XL features a 100% waterproof core, lifeproof uniform density for enhanced damage resistance, and a secure and foolproof click installation system. In addition, Regal XL has a total thickness of 6.5mm and boasts a 28mil wear layer.
For more information on the new Regal XL collection, visit the Trends in Rigid website or view the Regal XL product video.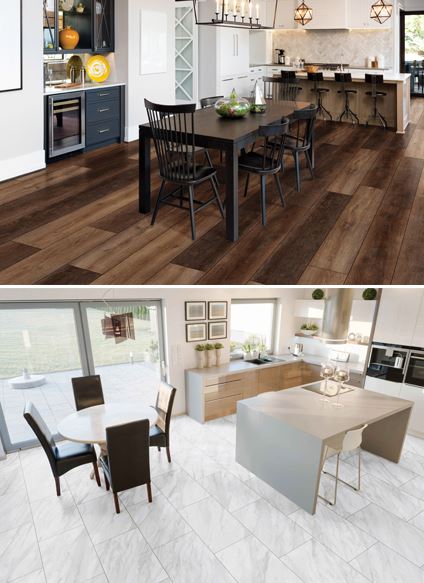 New Alette Contract Colors Now Available!
◆
Six new colors have been added to Adore's Alette Contract collection!
Visual Enhancements & New Color Introductions
Alette Contract features a series of visual enhancements that help recreate the look and feel of natural materials. The line offers four sided beveling, texturized surfaces, and high definition prints that capture the aesthetic of natural wood and stone. Adore has recently introduced four new plank colors to the Alette Contract offering, including three new wood looks - Hawthorne, Faulkner, Hemingway, and one new stained concrete look - Morrison. These new looks reflect today's trends, incorporating gray tones and a multi-strip option into the collection. The new Alette Contract introductions also include two stone looks: Harper and Steinbeck.
Superior Commercial Performance
Alette Contract has been engineered for superior performance in commercial spaces, and the line's new visuals all feature a 20 mil wear layer and Duramond™ reinforced surface. These products are chemical resistant and resistant to indentation. Alette Contract is FloorScore® certified, 100% recyclable, and certified safe for indoor air quality.
Introducing Matrexx Carbonado SPC!
◆
Fresh Colors
Matrexx Carbonado, the newest addition to the Jaeckle Distributors LVT product lineup, offers stunning visuals at a great value. The Carbonado series is made up of six 7" x 48" planks and two 12" x 24" tiles in today's trending colors. Carbonado's tiles capture natural visuals of gray and white stone, while the plank color palette is made up of a range of wood looks, including two multi-strip options.
Guaranteed Performance
This new collection provides high performance at an affordable price point. All Carbonado products are 5.0mm thick, including a 1.5mm attached cushion. Carbonado features a 12 mil wear layer and 4-sided micro-bevel edges, and these products have a fold-down, drop lock system for installation. Carbonado's worry-free flooring is waterproof, as well as stable in heat and cold. This durable SPC collection is FloorScore certified and comes with lifetime waterproof, lifetime residential, and 10 year commercial warranties.