Product Announcements
◆
Below you will find news and information about our latest product announcements. Check back regularly to stay up to date on news about our existing product lines.
Introducing Matrexx Carbonado SPC!
◆
Fresh Colors
Matrexx Carbonado, the newest addition to the Jaeckle Distributors LVT product lineup, offers stunning visuals at a great value. The Carbonado series is made up of six 7" x 48" planks and two 12" x 24" tiles in today's trending colors. Carbonado's tiles capture natural visuals of gray and white stone, while the plank color palette is made up of a range of wood looks, including two multi-strip options.
Guaranteed Performance
This new collection provides high performance at an affordable price point. All Carbonado products are 5.0mm thick, including a 1.5mm attached cushion. Carbonado features a 12 mil wear layer and 4-sided micro-bevel edges, and these products have a fold-down, drop lock system for installation. Carbonado's worry-free flooring is waterproof, as well as stable in heat and cold. This durable SPC collection is FloorScore certified and comes with lifetime waterproof, lifetime residential, and 10 year commercial warranties.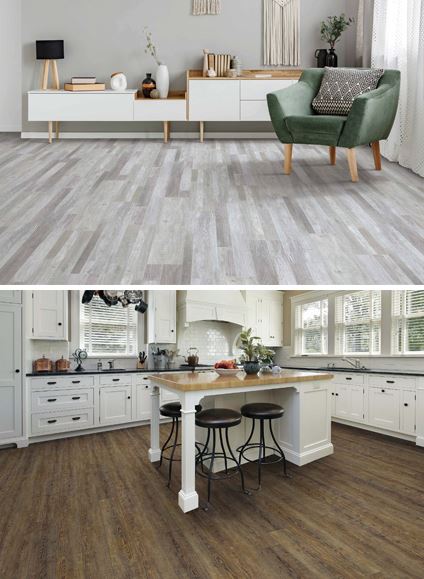 Fresh New Looks Are Now Available in the Trends in LVT Alta and AltaCL Collections!
◆
On-Trend Visuals
Trends in LVT has launched a stunning new Alta color palette to reflect today's trending visuals. The Alta collection now includes eight wood look plank options and two stone look selections. The 6" x 48" plank styles range from light to dark and cool to warm, and each of the collection's plank colors is now available in both the glue-down Alta construction and the floating/click Alta CL construction. Stone visuals are 18" x 18" and come in the Alta construction only.
Reliable Quality
Trends in LVT's updated visuals feature the same quality construction you've come to expect from the line's Alta and Alta CL offerings. These products are known for their warmth and comfort underfoot, and their quartz enhanced urethane coating and durable 12 mil wear layer result in extremely high performance wear. Alta and Alta CL can be installed in both residential and commercial settings, and the collections feature a 20 year residential warranty and a 5 year light commercial warranty.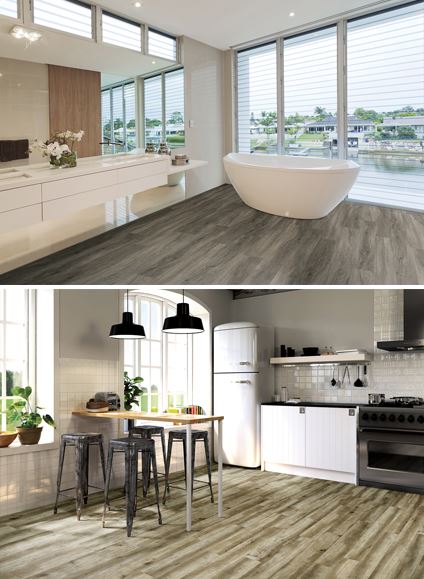 Trends in Rigid Now Offers Tile Visuals!
◆
Authentic Stone Looks
We are excited to announce the addition of four new tile visuals to the Trends in Rigid product collection! The new introductions capture the look of authentic stone flooring while providing the warmth, comfort, stability, and durability of SPC/rigid core. Diamond Steel, Luminous Ivory, Seasoned Khaki, and Ruffled Dove are available in 12x24 tiles.
Durable Construction
These new tile options are offered in the Sovereign construction only and feature a 22 mil wear layer, a secure angle-drop locking system, attached 1.5mm IXPE acoustical underlayment, and a lifetime waterproof warranty. Just like the line's plank options, Trends in Rigid's new tile looks are melded under heat and pressure to create a density much greater than that of traditional composites, resulting in superior indentation resistance, true topical waterproofing, and greater overall dimensional stability.